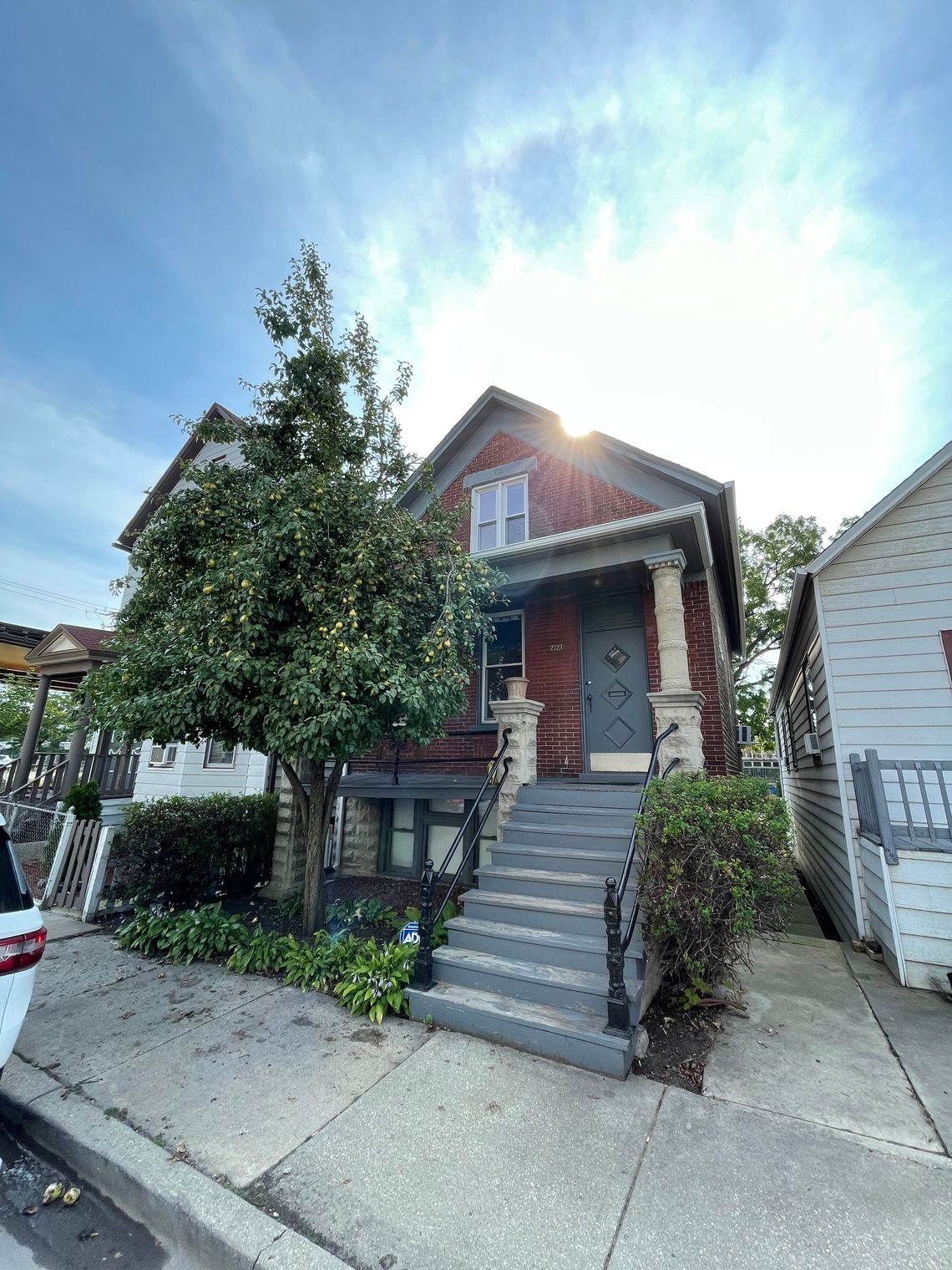 With the best intentions.
Chicago (October 10, 2022) - An order comes in where we quickly learn the contract seller is not appearing in the chain of title.  A brief investigation from what is available in the public record is revelatory, and a family's story emerges.
The last deed in the chain is 49 years old, so lets go back to the beginning.  In 1958 a widow and her oldest son, Minnie and Roger, buy three lots in Morgan Park, lots 24, 25 and 26 in Rogers' Resubdivision.  In 1961 they build a house on lot 26 and 1 foot of lot 25.  It must be the case that this home was built for the 2nd child of the family, Clifford, because Minnie and Roger deeded it to him, a 40 year old bachelor at the time, in 1963.  
In 1964 Minnie and Roger secure a $21,000 loan from Talman Federal Savings and Loan and use the money to build a much bigger home on the remainder of the three lots, lot 25 (minus 1 foot) and lot 24.  The house is completed in 1966 and Minnie and Roger move in, an affidavit reveals.  In 1973 Minnie quit claim's her interest to Roger alone, a bachelor of 52 years at the time.
Minnie's death in 1997, at 96 years old, sparks some succession planning in Roger's mind and he shortly thereafter creates a revocable trust and deeds his interest in PIQ into the trust.  A short 6 months later, Roger passes at 77 years old, in 1998.  No one notices that Roger's deed from himself to his newly formed trust only includes the transfer of lot 25 (minus the 1 foot); effectively conveying only a partial interest in his real estate.  
Fast forward to 2012, Clifford, now 89 years old, does some succession planning himself, and he puts a Transfer on Death Instrument of record on his original home and another one on our PIQ.  He also creates a Will that recites the intention of these TODIs in case they fail to do what was intended, as the law that created the Transfer on Death Instrument was just enacted earlier that year.  Clifford's intention was to leave his homes in Morgan Park to two daughters of his younger sister, Deborah.  In 2018, the record shows, an arms length sale of his first home, for $60,000.  And in 2021, at the advanced age of 98 years old, Clifford passes.  A niece, the named recipient in the TODI, lists his home for sale and finds a buyer; and we are introduced to PIQ.  Our examination follows.
The revocable trust created in 1997 is now reported lost, and we have to take the position, as recognized by the courts, that unless there is clear and convincing evidence of the trust agreement's existence and of it's contents, title reverts back to prior ownership in this instance.  So lot 25 (minus the foot) rejoins lot 24 back into Roger's name.  We learn by affidavit that Roger never married and has no children, so his ownership descends to his two siblings, Clifford and Deborah, being all the siblings of Roger.
Clifford's TODI, perhaps unintentional, inversed the mistake of Roger's original deed into trust, this time omitting a narrowed lot 25, so we can only trace his transfer upon death to that part of lot 24.  The other half of Roger's estate, long since owned by Deborah, passed to her children in 2020, when she predeceased Clifford by about 1 year.  She has 8 children, including Terrie, the beneficiary of Clifford's TODI.  A probate of Clifford's Will would only stand to correct the error in the TODI's legal description, since the Will so eloquently restated his intentions, but it could not authorize the transfer of the whole property to Clifford's niece because Clifford never owned the whole of PIQ.  Additionally, its important to note here that Clifford remained unmarried and left no children, which is confirmed by his Will.
So our title finding would be in Deborah's 8 children, 7 of which have a fractional 3/32 interest, comprising the 1/2 interest from Deborah's tenure being a descendent of Roger and the 1/2 interest from Clifford's tenure minus the effect of the TODI.  The TODI puts Clifford's remaining 1/4 interest in PIQ in the name of his niece, Terrie; which when added to the 3/32 interest based on Roger's original ownership, equals 11/32.
Believe me when I say it, if we could make a title finding based on intentions alone, it appears that Clifford was supposed to acquire the home of his brother, Roger, at his passing, and Clifford subsequently intended to leave it to his niece.  But the motivation of Roger in the creation of the 1997 trust is less clear, though.
From an examiner's perspective, I'm not sure I would make any other comment than "sorry."  I can see what I believe to be the family's best intentions, but it would be hubris for me to ignore the facts of the record.  Our proposed solution, and I hope it is not too difficult to execute, would be for Terrie's siblings to convey their interest to Terrie.  Then Terrie can convey PIQ under the contract to the buyer.